You are here
Antiques and Collectable Watches
Antique Collectable Watches
The Wrist watch is a popular collectors item that can be both a valuable collectable and a wearable accessory.
The modern wristwatch as we know it has been around since the beginning of the 20th century. The automatic watch was invented by Harwood in the 1920s and perfected by Eterna in the late 1940s. The electronic watch was invented in the 1960s leading to the quartz watch of the late 1960s. This almost led to the end of the mechanical watches made in Switzerland in the 1980s but for some reason us humans like to have something mechanical tell us the time.
Recently there has been a rise in sales of new high quality. Many manufacturers are making more mechanical watches and this trend has has a knock-on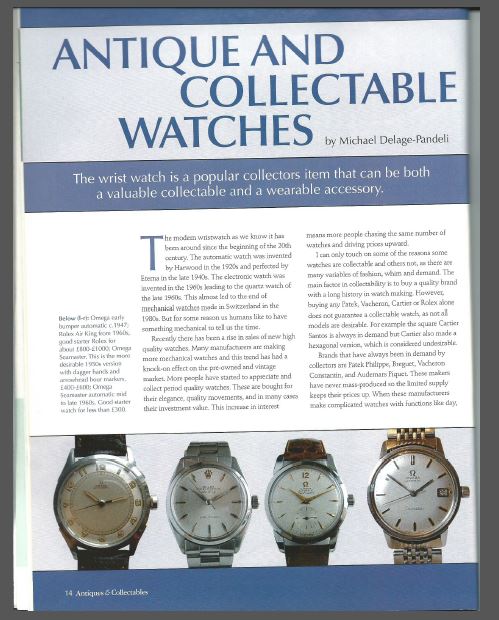 effect on the pre-owned and vintage market. More people have started to appreciate and collect period quality watches. These are bought for their elegance, quality movements, and in many cases their interest value. This increase in interest means more people chasing the same number of watches and driving prices upward.
I can only touch on some of the reasons some watches are collectable and other not, as there are many variables on fashion, whim and demand. The main factor in collectability is to buy a quality brand with a long history in watch making. However, buying any Patek, Vacheron, Cartier or Rolex alone does not guarantee a collectable watch, as not all models are desirable. For example the square Cartier Santos but Cartier made a hexagonal version, which is considered undesirable.
Brands that have always been in demand by collectors are Patek Philippe, Breguet, Vacheron Constantin and Audemars Piquet. These makers have never mass-produced so the limited supply keeps their prices up. When these manufacturers make complicated watches with functions like day, date, month, moon phase, chronograph or minute repeat, then the value ca go into the 10s of thousands of pounds. But you do not need to start at the top when collecting. 1960s steel Omega Seamaster can be bought from £300 or a Cartier Must Tank for £500 and a Rolex steel Oyster Precision from £600.
Another factor in collectability of watches is historical importance. For instance, the Rolex Oyster, the first waterproof watch, the Omega Speedmaster, the only watch worn on the moon or the Jaeger Le Coultre Memovox, the first automatic wrist-alarm. The above watches are still in production in updated forms and hold up to 75% of their value second hand. As for the original models (which were not made in large numbers) they are sought after by collectors and command high prices. For example an Omega Speedmaster from the 1960s would have cost new less than £100 (a lot of money at the time) recently in auction at Bonhams an example sold for £1140, and there is one for sale at a London dealer with the original box and papers for £2800. Re-issues of older watches like the Tag Heuer Monaco, Carrera and Autavia create a renewed interest, which can drive up prices of the original models.
Modern watch trends also affect values of vintage watches. The current trends for larger watches has caused the value of 1940s and 1960s men's watches under 32mm to fall and larger ones to rise. At a recent Christie's auction in New York a 32mm Patek Philippe sold for $5040 while a 35mm similar watch sold for $8400.
The ladie's watch market is totally different. Ladies as a rule do not attatch as much importance in what goes on inside a watch. They want something that looks good and is functional. So when buying ladies' watches it is best to stick with Cartier, Rolex and 1920s diamond set cocktail
watches. Ladies' period watches tend to be very small, making them difficult to read the time but if you like these small watches, you can get some great ones at the moment for very little money. The fashion for larger watches has extended to ladies now wearing men's perios watches.
Even though all my advice above points to main brands, a collector can speculate as to the next trend. As the main brands go up in price it puts them out of reach of some of the buyers who look around for alternatives. With a little research, a keen sense of quality and a little risk taking, some great watches can be acquired. I have recently bought an Eterna Kon Tiki. This is an automatic watch amde in the 1950s similar to the one worn by Thor Heyerdahl on his historic trip across the Atlantic on his raft of the same name. This watch at the same time was of the same quality and price as an Omega Constellation, which today would sell for £700 plus. I got the Eterna at a watch fair for less than £400. This I see as a good future investment as it fits in with what I was saying about historical performance and quality. Other watches to look out for are Movado, Universal, Zenith, and Enicar, but there are many more.
Some basic tips for buying quality vintage watches is to do your research. Look at old auction catalogues like Christie's and Sotheby's and see which watches sell and at what price, and remember to look at more than one sale to average out peaks. Auction information can be found on the internet. I find Bonhams and Antiquorum's site easy to use but there are many others. On the subject of the intenet do NOT rely on E-bay prices as these can be manipulated. Also there are a number of fakes on E-bay. I personally do not buy or sell on-line even though I have a web site. I think it is best to see the watch in the flesh. Another reason you need to see the watch is to try it on. This is very important as a watch can look great in a picture but terrible on your wrist and vice versa.
Build relationships with watch dealers whether at antique fairs, antique centres or shops. They can help you to find what you want, give good advice and also take your lesser models in trade in you when you trade up.
My final piece of advice is, buy the best example you can afford the model you want. Look for original dial, unpolished case, make sure all functions work. And do not forget, buy something you like. With all this information in this article you should be able to buy a watch that you will appreciate and which will appreciate.
Michael Delage-Pandeli: 10th Feb 2008 15:14:00